This post contains affiliate links. Please see my disclosure policy for more information.
This shop has been compensated by Collective Bias, Inc. and its advertiser. All opinions are mine alone. #NothingLikeAHug #CollectiveBias 
We just had our second child in early November so saving on diapers and wipes is something we research and get the most for bang for our buck.
Cutting costs with two kids in diapers isn't a difficult task – you just need to know where to shop.
My biggest non-secret is Sam's Club.
Why We Shop In Bulk
Well, we did it again.
We went home for Thanksgiving (two weeks after a C-Section, I'll take that gold star) and forgot to bring a sleeve of diapers from our box for our toddler son.
Because we were only gone for a few short days we decided to just buy a small pack of diapers on the eve of Thanksgiving before the holiday rush of Black Friday.
Big mistake for our wallet.
We ended up paying a whopping $.65 a diaper. Right before Christmas.
Yikes.
With Sam's Club, I'm already paying a low price for our Huggies® diapers plus additional savings offered throughout the year. This holiday season, you can save an additional $4 at Sam's Club on your Huggies® diapers PLUS use Ibotta and save an additional $4.
In addition to the additional savings, we absolutely love Sam's Club Pick-Up service. Between work, school, blogging, and taking care of two kids there's not much time for shopping. Pick-Up makes our lives a bit easier and gives us back time to do things as a family that isn't a chore.
Click on the image below to shop for Huggies® diapers!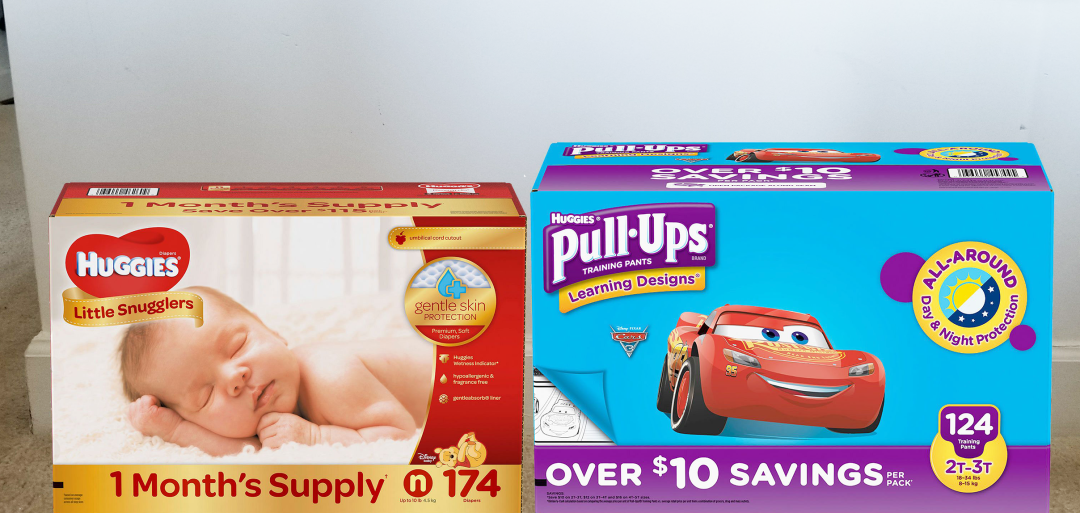 Newborns Go Through A Lot Of Diapers
I really did have temporary memory loss when it came to how much I was changing diapers during the newborn phase.
With shopping in bulk, I'm not running to the store with two kids to buy more diapers. We buy the large one month supply boxes and we're good. Easy to store in the closet and easy to grab a sleeve (if you remember…) if you're traveling.
Potty Training Looms
My son is two and a half and potty training is on the horizon for us.
Right now, he's in Little Movers but we just purchased a box of Huggies® Pull-Ups with Cars because of his obsession with the movie. The Pull-Ups will provide reliable protection and a design my son wants to wear. He is really excited to see his favorite character on the box and was already trying to get inside to see the Cars themed Pull-Ups.
How You Can Save Too!
You can sign up now online for your Sam's Club membership if you do not already have one. Head to your local Sam's Club for the additional $4 off any 1 Huggies® diapers, wipes, Pull-Ups. Don't forget to use the Ibotta app for an additional $4 off this holiday season.
Do you shop in bulk? How do you save on diapers?